About Us
Flames is a American takeaway in Leeds. Why don't you try our Ham Pizza or Veg Sizzler Pizza?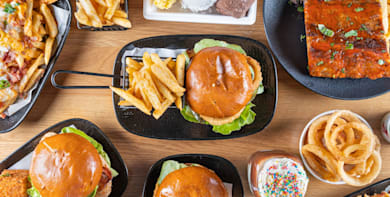 Reviews
335 reviews
robert
"Flames have been around for years and reason is top food great staff great service take some beating these boys highly recommend"
27/05/2020
Zohaib
"Not impressed"
25/05/2020
charlie
"Fantastic pizzas my son loves their kebabs"
20/05/2020
Elizabeth
"We really like the food here usually. Unfortunately, this time the chips were cold when they arrived. Rest of the food was spot on"
13/05/2020
Menu
BBQ Burger Half Pounder
Topped BBQ sauce
£4.90
BBQ Burger Quarter Pounder
Topped BBQ sauce
£4.50
American Burger Half Pounder
Topped with fried onions
£5.00
American Burger Quarter Pounder
Topped with fried onions
£4.50
Cheese Burger Half Pounder
£5.00
Cheese Burger Quarter Pounder
£4.50
Chicken Breast Burger Half Pounder
100% Pure chicken breast fillet with Hellmann's mayo
£5.90
Chicken Breast Burger Quarter Pounder
100% Pure chicken breast fillet with Hellmann's mayo
£5.00
Garlic Burger Half Pounder
Topped with garlic
£5.00
Garlic Burger Quarter Pounder
Topped with garlic
£4.50
Hawaiian Burger Half Pounder
Topped with pineapple
£5.00
Hawaiian Burger Quarter Pounder
Topped with pineapple
£4.50
Coleslaw Burger Half Pounder
Topped with coleslaw
£4.90
Coleslaw Burger Quarter Pounder
Topped with coleslaw
£4.50
Chilli Burger Half Pounder
Topped with jalapenos
£5.00
Chilli Burger Quarter Pounder
Topped with jalapenos
£4.50
Desi Burger Half Pounder
Shami kebab in a bun topped with mint yoghurt sauce, onions & lettuce
£5.50
Desi Burger Quarter Pounder
Shami kebab in a bun topped with mint yoghurt sauce, onions & lettuce
£4.50
Donner Burger Half Pounder
Topped with donner meat
£5.10
Donner Burger Quarter Pounder
Topped with donner meat
£4.60
Fish Burger - Quarter Pounder
Cod pattie
£4.70
Vegi Burger - Quarter Pounder
Mc Cain's vegetable pattie
£4.80
Mini Fillet Burger - Quarter Pounder
Chicken breast with Hellmann`s mayo
£3.40
Regular Burger Half Pounder
£4.75
Regular Burger Quarter Pounder
£4.30
Reggae Reggae Burger
Beef burger topped with cheese, jalapenos, fresh salad & reggae reggae sauce
Go Gourmet: Upgrade to a mighty handmade 6oz £1 extra
£5.75
Mushroom Melt Burger
100% Mozzarella cheese stuffed with sauteed mushrooms, 4oz beef burger, lettuce, onions & Flames special burger sauce
Go Gourmet: Upgrade to a mighty handmade 6oz £1 extra
£5.95
Nacho Libra Burger
Chicken fillet burger topped with crispy tortilla chips, drizzled with Mexican salsa, jalapenos & melted cheese
£5.95
New York Burger
100% Chicken fillet breast, hash brown topped with cheese, iceberg lettuce & Hellmann's mayonnaise
£5.95
Oringo Burger
The O is Silent
Beef burger topped with cheese, onion rings, fresh salad & BBQ sauce
Go Gourmet: Upgrade to a mighty handmade 6oz £1 extra
£5.75
Miami Burger
Chicken fillet, 2 mozzarella sticks, cheese slice, lettuce & Hellmann's mayo
£5.95
The Gourmet Burger
6oz Handmade style burger
Topped with fried onions, cheese slice, fresh salad & burger relish sauce
£6.45
The LB Burger
4  4oz beef burgers, 4  cheese slices, salad, burger sauce, stretched stomach
Go Gourmet: Upgrade to a mighty handmade 6oz £1 extra
£6.95
Hangover Burger
Beef burger with fried egg, turkey rasher, beans & a slice of cheese MESSY!
Go Gourmet: Upgrade to a mighty handmade 6oz £1 extra
£6.45
Maximus Burger
Chicken fillet, 4oz beef pattie, turkey rasher, cheese slice, lettuce, onions & Flames special burger sauce
£6.95
SFC Pizza 08" Thin
Southern fried chicken, peppers & sweetcorn
£6.10
SFC Pizza 11" Deep
Southern fried chicken, peppers & sweetcorn
£8.40
SFC Pizza 11" Thin
Southern fried chicken, peppers & sweetcorn
£7.40
SFC Pizza 16" Thin
Southern fried chicken, peppers & sweetcorn
£12.30
Pineapple Express Pizza 08" Thin
Chicken, pineapple & sweetcorn
£5.70
Pineapple Express Pizza 11" Deep
Chicken, pineapple & sweetcorn
£8.20
Pineapple Express Pizza 11" Thin
Chicken, pineapple & sweetcorn
£7.20
Pineapple Express Pizza 16" Thin
Chicken, pineapple & sweetcorn
£11.30
Pepperoni Pizza 08" Thin
Pepperoni & green peppers
£5.10
Pepperoni Pizza 11" Deep
Pepperoni & green peppers
£7.60
Pepperoni Pizza 11" Thin
Pepperoni & green peppers
£6.60
Pepperoni Pizza 16" Thin
Pepperoni & green peppers
£11.50
Pollo Funghi Pizza 08" Thin
Chicken & mushrooms
£5.10
Pollo Funghi Pizza 11" Deep
Chicken & mushrooms
£7.60
Pollo Funghi Pizza 11" Thin
Chicken & mushrooms
£6.60
Pollo Funghi Pizza 16" Thin
Chicken & mushrooms
£11.50
Pollo Pizza 08" Thin
Grilled chicken & fresh tomatoes
£5.10
Pollo Pizza 11" Deep
Grilled chicken & fresh tomatoes
£7.60
Pollo Pizza 11" Thin
Grilled chicken & fresh tomatoes
£6.60
Pollo Pizza 16" Thin
Grilled chicken & fresh tomatoes
£11.50
Mexican Pizza 08" Thin
Spicy chicken, red onions, peppers & green chillies
£5.40
Mexican Pizza 11" Deep
Spicy chicken, red onions, peppers & green chillies
£7.90
Mexican Pizza 11" Thin
Spicy chicken, red onions, peppers & green chillies
£6.90
Mexican Pizza 16" Thin
Spicy chicken, red onions, peppers & green chillies
£11.80
Meat Feast Pizza 08" Thin
Pepperoni, salami, garlic sausage & ham
£6.10
Meat Feast Pizza 11" Deep
Pepperoni, salami, garlic sausage & ham
£8.40
Meat Feast Pizza 11" Thin
Pepperoni, salami, garlic sausage & ham
£7.40
Meat Feast Pizza 16" Thin
Pepperoni, salami, garlic sausage & ham
£12.30
Mega Meaty Pizza 08" Thin
Donner meat, grilled chicken & ham
£6.10
Mega Meaty Pizza 11" Deep
Donner meat, grilled chicken & ham
£8.40
Mega Meaty Pizza 11" Thin
Donner meat, grilled chicken & ham
£7.40
Mega Meaty Pizza 16" Thin
Donner meat, grilled chicken & ham
£12.30
Texas Pizza 08" Thin
Grilled chicken, ham, mince meat, red onions & jalapenos
£6.30
Texas Pizza 11" Deep
Grilled chicken, ham, mince meat, red onions & jalapenos
£8.80
Texas Pizza 11" Thin
Grilled chicken, ham, mince meat, red onions & jalapenos
£7.80
Texas Pizza 16" Thin
Grilled chicken, ham, mince meat, red onions & jalapenos
£12.70
Thai Pizza 08" Thin
Grilled chicken, peppers & red onions with a sweet chilli base
£5.70
Thai Pizza 11" Deep
Grilled chicken, peppers & red onions with a sweet chilli base
£8.20
Thai Pizza 11" Thin
Grilled chicken, peppers & red onions with a sweet chilli base
£7.20
Thai Pizza 16" Thin
Grilled chicken, peppers & red onions with a sweet chilli base
£11.30
The Arabian Pizza 08" Thin
Chicken, black olives, red onions, peppers & fresh tomatoes
£6.30
The Arabian Pizza 11" Deep
Chicken, black olives, red onions, peppers & fresh tomatoes
£8.80
The Arabian Pizza 11" Thin
Chicken, black olives, red onions, peppers & fresh tomatoes
£7.80
The Arabian Pizza 16" Thin
Chicken, black olives, red onions, peppers & fresh tomatoes
£12.70
The Fantastic 4 Cheese Pizza 08" Thin
Mozzarella, feta, baby mozzarella & parmesan
£6.30
The Fantastic 4 Cheese Pizza 11" Deep
Mozzarella, feta, baby mozzarella & parmesan
£8.80
The Fantastic 4 Cheese Pizza 11" Thin
Mozzarella, feta, baby mozzarella & parmesan
£7.80
The Fantastic 4 Cheese Pizza 16" Thin
Mozzarella, feta, baby mozzarella & parmesan
£12.70
Tuna & Sweetcorn Pizza 08" Thin
£5.10
Tuna & Sweetcorn Pizza 11" Deep
£7.60
Tuna & Sweetcorn Pizza 11" Thin
£6.60
Tuna & Sweetcorn Pizza 16" Thin
£11.50
Spicy Donner Pizza 08" Thin
Donner meat, red onions & Flames famous hot sauce base
£5.40
Spicy Donner Pizza 11" Deep
Donner meat, red onions & Flames famous hot sauce base
£7.90
Spicy Donner Pizza 11" Thin
Donner meat, red onions & Flames famous hot sauce base
£6.90
Spicy Donner Pizza 16" Thin
Donner meat, red onions & Flames famous hot sauce base
£11.80
Vegetarian Pizza 08" Thin
Mushrooms, onions, peppers, sweetcorn & fresh tomatoes
£5.10
Vegetarian Pizza 11" Deep
Mushrooms, onions, peppers, sweetcorn & fresh tomatoes
£7.60
Vegetarian Pizza 11" Thin
Mushrooms, onions, peppers, sweetcorn & fresh tomatoes
£6.60
Vegetarian Pizza 16" Thin
Mushrooms, onions, peppers, sweetcorn & fresh tomatoes
£11.50
Veg Sizzler Pizza 08" Thin
Mushrooms, peppers, onions, jalapenos & fresh green chillies
£5.40
Veg Sizzler Pizza 11" Deep
Mushrooms, peppers, onions, jalapenos & fresh green chillies
£7.90
Veg Sizzler Pizza 11" Thin
Mushrooms, peppers, onions, jalapenos & fresh green chillies
£6.90
Veg Sizzler Pizza 16" Thin
Mushrooms, peppers, onions, jalapenos & fresh green chillies
£11.80
Veg Special Pizza 08" Thin
Black olives, mushrooms, red onions, sweetcorn, peppers & fresh tomatoes
£6.30
Veg Special Pizza 11" Deep
Black olives, mushrooms, red onions, sweetcorn, peppers & fresh tomatoes
£8.80
Veg Special Pizza 11" Thin
Black olives, mushrooms, red onions, sweetcorn, peppers & fresh tomatoes
£7.80
Veg Special Pizza 16" Thin
Black olives, mushrooms, red onions, sweetcorn, peppers & fresh tomatoes
£12.70
Flames Special Pizza 08" Thin
Mushrooms, peppers, onions, sweetcorn, salami, pepperoni & garlic sausage
£6.30
Flames Special Pizza 11" Deep
Mushrooms, peppers, onions, sweetcorn, salami, pepperoni & garlic sausage
£8.80
Flames Special Pizza 11" Thin
Mushrooms, peppers, onions, sweetcorn, salami, pepperoni & garlic sausage
£7.80
Flames Special Pizza 16" Thin
Mushrooms, peppers, onions, sweetcorn, salami, pepperoni & garlic sausage
£12.70
Full Monty Pizza 08" Thin
Pepperoni, ham, salami & mince meat
£6.10
Full Monty Pizza 11" Deep
Pepperoni, ham, salami & mince meat
£8.40
Full Monty Pizza 11" Thin
Pepperoni, ham, salami & mince meat
£7.40
Full Monty Pizza 16" Thin
Pepperoni, ham, salami & mince meat
£12.30
El Nacho Pizza 08" Thin
Crispy tortillas, Mexican salsa, jalapenos & extra mozzarella
£5.40
El Nacho Pizza 11" Deep
Crispy tortillas, Mexican salsa, jalapenos & extra mozzarella
£7.90
El Nacho Pizza 11" Thin
Crispy tortillas, Mexican salsa, jalapenos & extra mozzarella
£6.90
El Nacho Pizza 16" Thin
Crispy tortillas, Mexican salsa, jalapenos & extra mozzarella
£11.80
Donner Pizza 08" Thin
Donner meat & onions
£6.10
Donner Pizza 11" Deep
Donner meat & onions
£8.40
Donner Pizza 11" Thin
Donner meat & onions
£7.40
Donner Pizza 16" Thin
Donner meat & onions
£12.30
Create Your Own 08" Thin
With any four toppings of your choice
£6.30
Create Your Own 11" Deep
With any four toppings of your choice
£8.80
Create Your Own 11" Thin
With any four toppings of your choice
£7.80
Create Your Own 16" Thin
With any four toppings of your choice
£12.70
Chicken Tikka Pizza 08" Thin
Tandoori chicken, green peppers & red onions
£5.70
Chicken Tikka Pizza 11" Deep
Tandoori chicken, green peppers & red onions
£8.20
Chicken Tikka Pizza 11" Thin
Tandoori chicken, green peppers & red onions
£7.20
Chicken Tikka Pizza 16" Thin
Tandoori chicken, green peppers & red onions
£11.30
Hawaiian Pizza 08" Thin
Salami & pineapple
£5.10
Hawaiian Pizza 11" Deep
Salami & pineapple
£7.60
Hawaiian Pizza 11" Thin
Salami & pineapple
£6.60
Hawaiian Pizza 16" Thin
Salami & pineapple
£11.50
Hot Pollo Pizza 08" Thin
Spicy chicken, peppers, onions & jalapenos
£5.40
Hot Pollo Pizza 11" Deep
Spicy chicken, peppers, onions & jalapenos
£7.90
Hot Pollo Pizza 11" Thin
Spicy chicken, peppers, onions & jalapenos
£6.90
Hot Pollo Pizza 16" Thin
Spicy chicken, peppers, onions & jalapenos
£11.80
Hot Shot Pizza 08" Thin
Spicy pepperoni, peppers, onions & jalapenos
£5.40
Hot Shot Pizza 11" Deep
Spicy pepperoni, peppers, onions & jalapenos
£7.90
Hot Shot Pizza 11" Thin
Spicy pepperoni, peppers, onions & jalapenos
£6.90
Hot Shot Pizza 16" Thin
Spicy pepperoni, peppers, onions & jalapenos
£11.80
Garlic Margherita Pizza 08" Thin
Garlic
£4.90
Garlic Margherita Pizza 11" Deep
Garlic
£7.40
Garlic Margherita Pizza 11" Thin
Garlic
£6.40
Garlic Margherita Pizza 16" Thin
Garlic
£11.25
Garlic Sausage Pizza 08" Thin
£4.90
Garlic Sausage Pizza 11" Deep
£7.40
Garlic Sausage Pizza 11" Thin
£6.40
Garlic Sausage Pizza 16" Thin
£11.25
Half & Half Pizza 08" Thin
Choose any two different pizzas in one
£6.30
Half & Half Pizza 11" Deep
Choose any two different pizzas in one
£8.80
Half & Half Pizza 11" Thin
Choose any two different pizzas in one
£7.80
Half & Half Pizza 16" Thin
Choose any two different pizzas in one
£12.70
Ham & Mushroom Pizza 08" Thin
£5.10
Ham & Mushroom Pizza 11" Deep
£7.60
Ham & Mushroom Pizza 11" Thin
£6.60
Ham & Mushroom Pizza 16" Thin
£11.50
Layer Cake Pizza 08" Thin
Layer of cheese, layer of pepperoni, another layer of cheese & pepperoni & a final layer of cheese
£6.30
Layer Cake Pizza 11" Deep
Layer of cheese, layer of pepperoni, another layer of cheese & pepperoni & a final layer of cheese
£8.80
Layer Cake Pizza 11" Thin
Layer of cheese, layer of pepperoni, another layer of cheese & pepperoni & a final layer of cheese
£7.80
Layer Cake Pizza 16" Thin
Layer of cheese, layer of pepperoni, another layer of cheese & pepperoni & a final layer of cheese
£12.70
Margherita Pizza 08" Thin
100% Mozzarella cheese plus Flames special tomato base
£4.90
Margherita Pizza 11" Deep
100% Mozzarella cheese plus Flames special tomato base
£7.40
Margherita Pizza 11" Thin
100% Mozzarella cheese plus Flames special tomato base
£6.40
Margherita Pizza 16" Thin
100% Mozzarella cheese plus Flames special tomato base
£11.25
Margherita Zinger Pizza 08" Thin
Green chillies & jalapenos
£5.40
Margherita Zinger Pizza 11" Deep
Green chillies & jalapenos
£7.90
Margherita Zinger Pizza 11" Thin
Green chillies & jalapenos
£6.90
Margherita Zinger Pizza 16" Thin
Green chillies & jalapenos
£11.80
Chicken Feast Pizza 08" Thin
Grilled chicken & tandoori chicken
£6.10
Chicken Feast Pizza 11" Deep
Grilled chicken & tandoori chicken
£8.40
Chicken Feast Pizza 11" Thin
Grilled chicken & tandoori chicken
£7.40
Chicken Feast Pizza 16" Thin
Grilled chicken & tandoori chicken
£12.30
Al Funghi Pizza 08" Thin
Mushrooms
£4.90
Al Funghi Pizza 11" Deep
Mushrooms
£7.40
Al Funghi Pizza 11" Thin
Mushrooms
£6.40
Al Funghi Pizza 16" Thin
Mushrooms
£11.25
BBQ Pizza 08" Thin
Grilled chicken, onions & fresh tomatoes with a BBQ base
£5.70
BBQ Pizza 11" Deep
Grilled chicken, onions & fresh tomatoes with a BBQ base
£8.20
BBQ Pizza 11" Thin
Grilled chicken, onions & fresh tomatoes with a BBQ base
£7.20
BBQ Pizza 16" Thin
Grilled chicken, onions & fresh tomatoes with a BBQ base
£11.30
Asian Special Pizza 08" Thin
Chicken tikka, mince meat, peppers, red onions, sweetcorn & green chillies
£6.30
Asian Special Pizza 11" Deep
Chicken tikka, mince meat, peppers, red onions, sweetcorn & green chillies
£8.80
Asian Special Pizza 11" Thin
Chicken tikka, mince meat, peppers, red onions, sweetcorn & green chillies
£7.80
Asian Special Pizza 16" Thin
Chicken tikka, mince meat, peppers, red onions, sweetcorn & green chillies
£12.70
Chicken Breast Burger Double
Chicken Breast Burger Single
2nd Half Chicken Tikka Pizza
2nd Half Garlic Margherita
2nd Half Margherita Zinger
2nd Half Pineapple Express
2nd Half Southern Fried Chicken
2nd Half The Fantastic 4 Cheese
2nd Half Tuna & Sweetcorn
1st Half Chicken Tikka Pizza
1st Half Garlic Margherita
1st Half Margherita Zinger Pizza
1st Half Pineapple Express
1st Half Southern Fried Chicken
1st Half The Fantastic 4 Cheese
1st Half Tuna & Sweetcorn
Topping Mozzarella Cheese
Topping Sweet Chilli Base
No. 2 Sub Topping Chicken
No. 2 Sub Topping Chicken Tikka
No. 2 Sub Topping Garlic Sausage
No. 2 Sub Topping Pepperoni
Sub Filling Chicken Tikka
Sub Filling Mushroom Bhaji
Sub Filling Spicy Chicken
Salad Filling Chicken Tikka
8" Special Pizza (additional £1.00)
11" Special Pizza (additional £1.20)
16" Special Pizza (additional £1.80)
Premium Shake Double Chocolate Muffin
£3.90
Premium Shake Ferrero Rocher
£3.90
Ferrero Rocher Cheesecake
£3.60
3 Pieces of Chicken Regular
£4.80
3 Pieces of Chicken With Chips
£5.30
1 Piece of Chicken Regular
£2.30
1 Piece of Chicken With Chips
£3.30
2 Pieces of Chicken Regular
£3.70
2 Pieces of Chicken With Chips
£4.50
Vegan Cauliflower & Broccoli Pattie (On its Own) Burger
£3.95
Vegan Cauliflower & Broccoli Pattie (On its Own) Pitta
£3.95
Vegan Cauliflower & Broccoli Pattie (On its Own) Wrap
£3.95
Vegan Cauliflower & Broccoli Pattie (On its Own) Nan
£4.95
Vegan Cauliflower & Broccoli Pattie (Meal) Burger
£5.45
Vegan Cauliflower & Broccoli Pattie (Meal) Pitta
£5.45
Vegan Cauliflower & Broccoli Pattie (Meal) Wrap
£5.45
Vegan Cauliflower & Broccoli Pattie (Meal) Nan
£6.45
Vegan Hot & Spicy Pattie (On its Own) Burger
£3.95
Vegan Hot & Spicy Pattie (On its Own) Pitta
£3.95
Vegan Hot & Spicy Pattie (On its Own) Wrap
£3.95
Vegan Hot & Spicy Pattie (On its Own) Nan
£4.95
Vegan Hot & Spicy Pattie Meal) Burger
£5.45
Vegan Hot & Spicy Pattie Meal) Pitta
£5.45
Vegan Hot & Spicy Pattie Meal) Wrap
£5.45
Vegan Hot & Spicy Pattie Meal) Nan
£6.45
Original Calzone
Salami, garlic sausage, peppers & mushrooms
£7.00
Donner Calzone
Donner meat, green peppers & onions
£7.00
Pollo Funghi Calzone
Chicken & mushrooms
£7.00
Veg Calzone
Mushrooms, peppers, onions & fresh tomatoes
£7.00
Special Calzone
Tandoori chicken, donner meat, red onions & peppers
£7.40
Chicken Tikka (4) Regular
Served with salad & mint yoghurt sauce
£4.10
Chicken Tikka (4) With Chips
Served with salad & mint yoghurt sauce
£5.00
Vegetable Samosa (2) Regular
Served with salad & mint yoghurt sauce
£3.50
Vegetable Samosa (2) With Chips
Served with salad & mint yoghurt sauce
£4.40
Seekh Kebab (2) Regular
Served with salad & mint yoghurt sauce
£3.50
Seekh Kebab (2) With Chips
Served with salad & mint yoghurt sauce
£4.40
Shami Kebab (2) Regular
Served with salad & mint yoghurt sauce
£3.50
Shami Kebab (2) With Chips
Served with salad & mint yoghurt sauce
£4.40
Popcorn Chicken With Chips
£3.90
Chicken Strips (4) Regular
£3.60
Chicken Strips (4) With Chips
£4.60
Chicken Nuggets (8) Regular
£3.40
Chicken Nuggets (8) With Chips
£4.30
Onion Rings (8) With Chips
£4.10
Cheesy Onion Rings (8) Regular
£3.80
Cheesy Onion Rings (8) With Chips
£4.70
Mozzarella Cheese Dippers (4)
£2.90
King Kebab
Donner Meat, Chicken Tikka, Chicken Shawarma & Seekh Kebab. With Chips, Fresh Salad, Chilli Sauce & Garlic Mayo on Nan Bread
£8.90
King Feast
1 x Burger (Beef or Chicken). 1 Piece of Chicken, 3  Spicy Wings, Chips, Donner Meat
Served with Chilli Sauce Garlic Mayo & Salad
£8.70
Garlic Bread Original
Garlic butter on a pizza base
£3.95
Garlic Bread Special
Combination of garlic butter & Flames special tomato base
£4.15
Garlic Bread Supreme
Garlic butter base topped with 100% mozzarella cheese
£4.55
Mushroom Garlic Bread
Garlic butter bread topped with mushrooms & mozzarella cheese
£4.95
Donner Kebab (Small) - Pitta
£4.40
Donner Kebab (Large) Pitta
£5.10
Donner Kebab (Large) Wrap
£4.60
Chicken Tikka Kebab Pitta
£5.20
Special Pitta
Chicken tikka, seekh kebab & donner meat
£5.80
Special Nan
Chicken tikka, seekh kebab & donner meat
£6.65
Mixed Shawarma Box
Shawarma, donner meat, chips & Pepsi can
£6.50
Boneless Bucket
3 Chicken breast burgers, 6 pcs chicken strips, 6 pcs popcorn chicken, 6 pcs chicken nuggets, 3 chips, 3 dips & a 1.5L bottle of Pepsi
£18.90
Boneless Feast
Chicken breast burger, 2 pieces of chicken strips, 4 popcorn chicken, chips, any dip & a can of Pepsi
£7.30
Boneless Munch
3 Chicken strips, 4 popcorn chicken, chips, any dip & a can of Pepsi
£6.30
Family Pizza Meal
Any 2 x 11" Pizzas, 8 Spicy Wings, 2 Chips, 1.5Ltr Pepsi & 2 Dips
Except Specials & Calzones
£20.00
Combo Feast
Chicken Breast burger, 1 piece of chicken, 3 spicy wings, chips & a can of Pepsi
£7.30
Combo Munch
Chicken breast burger, 1 piece of chicken, chips & a can of Pepsi
£6.75
Combo Small Pizza Meal
Any 8" Thin Pizza, 3 Spicy Wings, Chips & Pepsi
Except Specials & Calzones
£8.00
Sizzler Box
Spicy breast burger, 3 spicy wings, chips & a can of Pepsi
£6.75
Small Pizza Meal
Any 8" Thin Pizza, Chips & Pepsi
Except Specials & Calzones
£7.00
Mega Pizza Meal
Any 2 x 16" Pizzas, 10 Spicy Wings, 4 Chips, 1.5Ltr Pepsi & 4 Dips
Except Specials & Calzones
£27.00
Meal 1 - Standard Box
2 Pieces chicken, chips & a can of Pepsi
£5.60
Meal 10 - Wrap Meal
Chicken wrap, chips & a can of Pepsi
Spicy or standard
£5.60
Nan Kebab Meal
Any naan kebab with chips & a can of Pepsi
Excludes special naan kebab
£7.50
Meal 2 - Value Box
2 Pcs chicken, 2 spicy wings, chips & a can of Pepsi
£6.10
Meal 3 - Spicy Wings Meal
5 Spicy wings, chips & a can of Pepsi
£5.20
Meal 4 - Mini Chicken Feast Meal
3 Pcs chicken, 3 spicy wings, chips & a can of Pepsi
£7.20
Meal 5 - Bargain Bucket
8 Pcs chicken, 8 spicy wings, 4 chips, luxury coleslaw & a bottle of Pepsi
£18.90
Meal 6 - Family Feast
6 Pcs chicken, 6 spicy wings, 3 chips, luxury coleslaw & a bottle of Pepsi
£15.90
Meal 7 - Donner Meal
Donner kebab or chicken shawarma, chips & a can of Pepsi
£5.80
Meal 8 - Burger Meal Double
Cheese Burger, chips & a can of Pepsi
£5.70
Meal 8 - Burger Meal Single
Cheese Burger, chips & a can of Pepsi
£5.10
Meal 9 - Chicken Breast Burger Meal Double
100% Fillet breast burger, chips & a can of Pepsi
£6.70
Meal 9 - Chicken Breast Burger Meal Single
100% Fillet breast burger, chips & a can of Pepsi
£5.60
Pizza Meal 17
Any 11" Thin Pizza, Chips & Pepsi
Except Specials & Calzones
£8.50
Pizza Meal 18
Any 11" Thin Pizza, 3 Spicy Wings, Chips & Pepsi
Except Specials & Calzones
£9.50
Pizza Meal 19
Any 16" Pizza, 5 Spicy Wings, 2 Chips, 2 Pepsi & 2 Dips
Except Specials & Calzones
£17.00
Sub Meal 1
Any sub with 1 filling, chips, Pepsi & Dip
£6.50
Sub Meal 2
Any 2  subs with filling each, 2  chips, 2  Pepsi & 2  dips
£9.80
Jamaican Kebab (Meal) Nan
Donner topped with reggae sauce
£7.40
Jamaican Kebab (Meal) Pitta
Donner topped with reggae sauce
£6.40
Jamaican Kebab (Meal) Wrap
Donner topped with reggae sauce
£6.40
Jamaican Kebab (On its Own) Nan
Donner topped with reggae sauce
£5.90
Jamaican Kebab (On its Own) Pitta
Donner topped with reggae sauce
£4.90
Jamaican Kebab (On its Own) Wrap
Donner topped with reggae sauce
£4.90
Indian Kebab (Meal) Nan
Seekh kebab topped with yoghurt mint sauce
£7.40
Indian Kebab (Meal) Pitta
Seekh kebab topped with yoghurt mint sauce
£6.40
Indian Kebab (Meal) Wrap
Seekh kebab topped with yoghurt mint sauce
£6.40
Indian Kebab (On its Own) Nan
Seekh kebab topped with yoghurt mint sauce
£5.90
Indian Kebab (On its Own) Pitta
Seekh kebab topped with yoghurt mint sauce
£4.90
Indian Kebab (On its Own) Wrap
Seekh kebab topped with yoghurt mint sauce
£4.90
Italian Kebab (Meal) Nan
Donner topped with garlic mayo & cheese
£7.40
Italian Kebab (Meal) Pitta
Donner topped with garlic mayo & cheese
£6.40
Italian Kebab (Meal) Wrap
Donner topped with garlic mayo & cheese
£6.40
Italian Kebab (On its Own) Nan
Donner topped with garlic mayo & cheese
£5.90
Italian Kebab (On its Own) Pitta
Donner topped with garlic mayo & cheese
£4.90
Italian Kebab (On its Own) Wrap
Donner topped with garlic mayo & cheese
£4.90
Arabian Kebab (Meal) Nan
Chicken shawarma topped with garlic
£7.40
Arabian Kebab (Meal) Pitta
Chicken shawarma topped with garlic
£6.40
Arabian Kebab (Meal) Wrap
Chicken shawarma topped with garlic
£6.40
Arabian Kebab (On its Own) Nan
Chicken shawarma topped with garlic
£5.90
Arabian Kebab (On its Own) Pitta
Chicken shawarma topped with garlic
£4.90
Arabian Kebab (On its Own) Wrap
Chicken shawarma topped with garlic
£4.90
American Kebab (Meal) Nan
Donner topped with fried onions & mayo
£7.40
American Kebab (Meal) Pitta
Donner topped with fried onions & mayo
£6.40
American Kebab (Meal) Wrap
Donner topped with fried onions & mayo
£6.40
American Kebab (On its Own) Nan
Donner topped with fried onions & mayo
£5.90
American Kebab (On its Own) Pitta
Donner topped with fried onions & mayo
£4.90
American Kebab (On its Own) Wrap
Donner topped with fried onions & mayo
£4.90
Turkish Kebab (Meal) Nan
The original donner kebab with chilli sauce
£7.40
Turkish Kebab (Meal) Pitta
The original donner kebab with chilli sauce
£6.40
Turkish Kebab (Meal) Wrap
The original donner kebab with chilli sauce
£6.40
Turkish Kebab (On its Own) Nan
The original donner kebab with chilli sauce
£5.90
Turkish Kebab (On its Own) Pitta
The original donner kebab with chilli sauce
£4.90
Turkish Kebab (On its Own) Wrap
The original donner kebab with chilli sauce
£4.90
Mexican Kebab (Meal) Nan
Donner topped with jalapeno salsa
£7.40
Mexican Kebab (Meal) Pitta
Donner topped with jalapeno salsa
£6.40
Mexican Kebab (Meal) Wrap
Donner topped with jalapeno salsa
£6.40
Mexican Kebab (On its Own) Nan
Donner topped with jalapeno salsa
£5.90
Mexican Kebab (On its Own) Pitta
Donner topped with jalapeno salsa
£4.90
Mexican Kebab (On its Own) Wrap
Donner topped with jalapeno salsa
£4.90
Contact Us
Find Us
162a Woodhouse Lane, Leeds, LS29HB
We deliver to
LS1, LS10, LS11, LS12, LS13, LS16, LS17, LS2, LS3, LS4, LS5, LS6, LS7, LS8, LS9