About Us
Flames is a American takeaway in Leeds. Why don't you try our Ham Pizza or Veg Sizzler Pizza?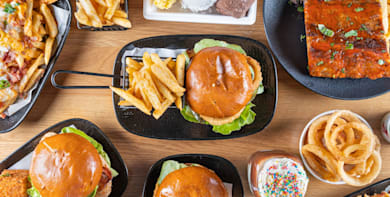 Reviews
395 reviews
Andy
"Excellent :)"
31/05/2021
Cameron
"Delivery driver was a legend"
20/05/2021
Karen
"Great quality food, enjoy it very much, suprised how early the delivery came, over all im very satisfied. Keep it up 👍🏻"
13/05/2021
Olivia
"Ordered and it came so early! Food was really hot, fresh and tasty! Would definitely recommend!!"
05/05/2021
Menu
Meal 1 - Standard Box
2 Pieces chicken, chips & a can of Pepsi
£5.80
Meal 2 - Value Box
2 Pcs chicken, 2 spicy wings, chips & a can of Pepsi
£6.30
Meal 3 - Spicy Wings Meal
5 Spicy wings, chips & a can of Pepsi
£5.40
Meal 4 - Mini Chicken Feast Meal
3 Pcs chicken, 3 spicy wings, chips & a can of Pepsi
£7.40
Meal 5 - Bargain Bucket
8 Pcs chicken, 8 spicy wings, 4 chips, luxury coleslaw & a bottle of Pepsi
£19.50
Meal 6 - Family Feast
6 Pcs chicken, 6 spicy wings, 3 chips, luxury coleslaw & a bottle of Pepsi
£16.50
Meal 7 - Donner Meal
Donner kebab or chicken shawarma, chips & a can of Pepsi
£6.00
Meal 8 - Burger Meal Single
Cheese Burger, chips & a can of Pepsi
£5.30
Meal 8 - Burger Meal Double
Cheese Burger, chips & a can of Pepsi
£5.90
Meal 9 - Chicken Breast Burger Meal Single
100% Fillet breast burger, chips & a can of Pepsi
£5.80
Meal 9 - Chicken Breast Burger Meal Double
100% Fillet breast burger, chips & a can of Pepsi
£6.90
Meal 10 - Wrap Meal
Chicken wrap, chips & a can of Pepsi
Spicy or standard
£5.80
Nan Kebab Meal
Any naan kebab with chips & a can of Pepsi
Excludes special naan kebab
£7.90
Small Pizza Meal
Any 8" Thin Pizza, Chips & Pepsi
Except Specials & Calzones
£7.50
Combo Small Pizza Meal
Any 8" Thin Pizza, 3 Spicy Wings, Chips & Pepsi
Except Specials & Calzones
£8.50
Pizza Meal 17
Any 11" Thin Pizza, Chips & Pepsi
Except Specials & Calzones
£9.00
Pizza Meal 18
Any 11" Thin Pizza, 3 Spicy Wings, Chips & Pepsi
Except Specials & Calzones
£10.00
Pizza Meal 19
Any 16" Pizza, 5 Spicy Wings, 2 Chips, 2 Pepsi & 2 Dips
Except Specials & Calzones
£18.00
Mega Pizza Meal
Any 2 x 16" Pizzas, 10 Spicy Wings, 4 Chips, 1.5Ltr Pepsi & 4 Dips
Except Specials & Calzones
£28.00
Family Pizza Meal
Any 2 x 11" Pizzas, 8 Spicy Wings, 2 Chips, 1.5Ltr Pepsi & 2 Dips
Except Specials & Calzones
£22.00
Sub Meal 1
Any sub with 1 filling, chips, Pepsi & Dip
£7.00
Sub Meal 2
Any 2  subs with filling each, 2  chips, 2  Pepsi & 2  dips
£10.00
Boneless Munch
3 Chicken strips, 4 popcorn chicken, chips, any dip & a can of Pepsi
£6.50
Boneless Feast
Chicken breast burger, 2 pieces of chicken strips, 4 popcorn chicken, chips, any dip & a can of Pepsi
£7.50
Boneless Bucket
3 Chicken breast burgers, 6 pcs chicken strips, 6 pcs popcorn chicken, 6 pcs chicken nuggets, 3 chips, 3 dips & a 1.5L bottle of Pepsi
£19.50
Combo Munch
Chicken breast burger, 1 piece of chicken, chips & a can of Pepsi
£6.95
Sizzler Box
Spicy breast burger, 3 spicy wings, chips & a can of Pepsi
£6.95
Combo Feast
Chicken Breast burger, 1 piece of chicken, 3 spicy wings, chips & a can of Pepsi
£7.50
Margherita Pizza 08" Thin
100% Mozzarella cheese plus Flames special tomato base
Favourites
£5.10
Margherita Pizza 11" Thin
100% Mozzarella cheese plus Flames special tomato base
Favourites
£6.60
Margherita Pizza 11" Deep
100% Mozzarella cheese plus Flames special tomato base
Favourites
£7.60
Margherita Pizza 16" Thin
100% Mozzarella cheese plus Flames special tomato base
Favourites
£11.45
Garlic Margherita Pizza 08" Thin
Garlic
Favourites
£5.10
Garlic Margherita Pizza 11" Thin
Garlic
Favourites
£6.60
Garlic Margherita Pizza 11" Deep
Garlic
Favourites
£7.60
Garlic Margherita Pizza 16" Thin
Garlic
Favourites
£11.45
Al Funghi Pizza 08" Thin
Mushrooms
Favourites
£5.10
Al Funghi Pizza 11" Thin
Mushrooms
Favourites
£6.60
Al Funghi Pizza 11" Deep
Mushrooms
Favourites
£7.60
Al Funghi Pizza 16" Thin
Mushrooms
Favourites
£11.45
Ham Pizza 08" Thin
Favourites
£5.10
Ham Pizza 11" Thin
Favourites
£6.60
Ham Pizza 11" Deep
Favourites
£7.60
Ham Pizza 16" Thin
Favourites
£11.45
Garlic Sausage Pizza 08" Thin
Favourites
£5.10
Garlic Sausage Pizza 11" Thin
Favourites
£6.60
Garlic Sausage Pizza 11" Deep
Favourites
£7.60
Garlic Sausage Pizza 16" Thin
Favourites
£11.45
Ham & Mushroom Pizza 08" Thin
Great Combos
£5.30
Ham & Mushroom Pizza 11" Thin
Great Combos
£6.80
Ham & Mushroom Pizza 11" Deep
Great Combos
£7.80
Ham & Mushroom Pizza 16" Thin
Great Combos
£11.70
Tuna & Sweetcorn Pizza 08" Thin
Great Combos
£5.30
Tuna & Sweetcorn Pizza 11" Thin
Great Combos
£6.80
Tuna & Sweetcorn Pizza 11" Deep
Great Combos
£7.80
Tuna & Sweetcorn Pizza 16" Thin
Great Combos
£11.70
Pollo Funghi Pizza 08" Thin
Chicken & mushrooms
Great Combos
£5.30
Pollo Funghi Pizza 11" Thin
Chicken & mushrooms
Great Combos
£6.80
Pollo Funghi Pizza 11" Deep
Chicken & mushrooms
Great Combos
£7.80
Pollo Funghi Pizza 16" Thin
Chicken & mushrooms
Great Combos
£11.70
Hawaiian Pizza 08" Thin
Salami & pineapple
Great Combos
£5.30
Hawaiian Pizza 11" Thin
Salami & pineapple
Great Combos
£6.80
Hawaiian Pizza 11" Deep
Salami & pineapple
Great Combos
£7.60
Hawaiian Pizza 16" Thin
Salami & pineapple
Great Combos
£11.70
Pepperoni Pizza 08" Thin
Pepperoni & green peppers
Great Combos
£5.30
Pepperoni Pizza 11" Thin
Pepperoni & green peppers
Great Combos
£6.80
Pepperoni Pizza 11" Deep
Pepperoni & green peppers
Great Combos
£7.80
Pepperoni Pizza 16" Thin
Pepperoni & green peppers
Great Combos
£11.70
Pollo Pizza 08" Thin
Grilled chicken & fresh tomatoes
Great Combos
£5.30
Pollo Pizza 11" Thin
Grilled chicken & fresh tomatoes
Great Combos
£6.80
Pollo Pizza 11" Deep
Grilled chicken & fresh tomatoes
Great Combos
£7.80
Pollo Pizza 16" Thin
Grilled chicken & fresh tomatoes
Great Combos
£11.70
Vegetarian Pizza 08" Thin
Mushrooms, onions, peppers, sweetcorn & fresh tomatoes
Great Combos
£5.30
Vegetarian Pizza 11" Thin
Mushrooms, onions, peppers, sweetcorn & fresh tomatoes
Great Combos
£6.80
Vegetarian Pizza 11" Deep
Mushrooms, onions, peppers, sweetcorn & fresh tomatoes
Great Combos
£7.80
Vegetarian Pizza 16" Thin
Mushrooms, onions, peppers, sweetcorn & fresh tomatoes
Great Combos
£11.70
Hot Pollo Pizza 08" Thin
Spicy chicken, peppers, onions & jalapenos
Hot & Spicy
£5.60
Hot Pollo Pizza 11" Thin
Spicy chicken, peppers, onions & jalapenos
Hot & Spicy
£7.10
Hot Pollo Pizza 11" Deep
Spicy chicken, peppers, onions & jalapenos
Hot & Spicy
£8.10
Hot Pollo Pizza 16" Thin
Spicy chicken, peppers, onions & jalapenos
Hot & Spicy
£12.00
Hot Shot Pizza 08" Thin
Spicy pepperoni, peppers, onions & jalapenos
Hot & Spicy
£5.60
Hot Shot Pizza 11" Thin
Spicy pepperoni, peppers, onions & jalapenos
Hot & Spicy
£7.10
Hot Shot Pizza 11" Deep
Spicy pepperoni, peppers, onions & jalapenos
Hot & Spicy
£8.10
Hot Shot Pizza 16" Thin
Spicy pepperoni, peppers, onions & jalapenos
Hot & Spicy
£12.00
Mexican Pizza 08" Thin
Spicy chicken, red onions, peppers & green chillies
Hot & Spicy
£5.60
Mexican Pizza 11" Thin
Spicy chicken, red onions, peppers & green chillies
Hot & Spicy
£7.10
Mexican Pizza 11" Deep
Spicy chicken, red onions, peppers & green chillies
Hot & Spicy
£8.10
Mexican Pizza 16" Thin
Spicy chicken, red onions, peppers & green chillies
Hot & Spicy
£12.00
Spicy Donner Pizza 08" Thin
Donner meat, red onions & Flames famous hot sauce base
Hot & Spicy
£5.60
Spicy Donner Pizza 11" Thin
Donner meat, red onions & Flames famous hot sauce base
Hot & Spicy
£7.10
Spicy Donner Pizza 11" Deep
Donner meat, red onions & Flames famous hot sauce base
Hot & Spicy
£8.10
Spicy Donner Pizza 16" Thin
Donner meat, red onions & Flames famous hot sauce base
Hot & Spicy
£12.00
El Nacho Pizza 08" Thin
Crispy tortillas, Mexican salsa, jalapenos & extra mozzarella
Hot & Spicy
£5.60
El Nacho Pizza 11" Thin
Crispy tortillas, Mexican salsa, jalapenos & extra mozzarella
Hot & Spicy
£7.10
El Nacho Pizza 11" Deep
Crispy tortillas, Mexican salsa, jalapenos & extra mozzarella
Hot & Spicy
£8.10
El Nacho Pizza 16" Thin
Crispy tortillas, Mexican salsa, jalapenos & extra mozzarella
Hot & Spicy
£12.00
Margherita Zinger Pizza 08" Thin
Green chillies & jalapenos
Hot & Spicy
£5.60
Margherita Zinger Pizza 11" Thin
Green chillies & jalapenos
Hot & Spicy
£7.10
Margherita Zinger Pizza 11" Deep
Green chillies & jalapenos
Hot & Spicy
£8.10
Margherita Zinger Pizza 16" Thin
Green chillies & jalapenos
Hot & Spicy
£12.00
Veg Sizzler Pizza 08" Thin
Mushrooms, peppers, onions, jalapenos & fresh green chillies
Hot & Spicy
£5.60
Veg Sizzler Pizza 11" Thin
Mushrooms, peppers, onions, jalapenos & fresh green chillies
Hot & Spicy
£7.10
Veg Sizzler Pizza 11" Deep
Mushrooms, peppers, onions, jalapenos & fresh green chillies
Hot & Spicy
£8.10
Veg Sizzler Pizza 16" Thin
Mushrooms, peppers, onions, jalapenos & fresh green chillies
Hot & Spicy
£12.00
Thai Pizza 08" Thin
Grilled chicken, peppers & red onions with a sweet chilli base
Flame Favourites
£5.90
Thai Pizza 11" Thin
Grilled chicken, peppers & red onions with a sweet chilli base
Flame Favourites
£7.40
Thai Pizza 11" Deep
Grilled chicken, peppers & red onions with a sweet chilli base
Flame Favourites
£8.40
Thai Pizza 16" Thin
Grilled chicken, peppers & red onions with a sweet chilli base
Flame Favourites
£11.50
BBQ Pizza 08" Thin
Grilled chicken, onions & fresh tomatoes with a BBQ base
Flame Favourites
£5.90
BBQ Pizza 11" Thin
Grilled chicken, onions & fresh tomatoes with a BBQ base
Flame Favourites
£7.40
BBQ Pizza 11" Deep
Grilled chicken, onions & fresh tomatoes with a BBQ base
Flame Favourites
£8.40
BBQ Pizza 16" Thin
Grilled chicken, onions & fresh tomatoes with a BBQ base
Flame Favourites
£11.50
Pineapple Express Pizza 08" Thin
Chicken, pineapple & sweetcorn
Flame Favourites
£5.90
Pineapple Express Pizza 11" Thin
Chicken, pineapple & sweetcorn
Flame Favourites
£7.40
Pineapple Express Pizza 11" Deep
Chicken, pineapple & sweetcorn
Flame Favourites
£8.40
Pineapple Express Pizza 16" Thin
Chicken, pineapple & sweetcorn
Flame Favourites
£11.50
Chicken Tikka Pizza 08" Thin
Tandoori chicken, green peppers & red onions
Flame Favourites
£5.90
Chicken Tikka Pizza 11" Thin
Tandoori chicken, green peppers & red onions
Flame Favourites
£7.40
Chicken Tikka Pizza 11" Deep
Tandoori chicken, green peppers & red onions
Flame Favourites
£8.40
Chicken Tikka Pizza 16" Thin
Tandoori chicken, green peppers & red onions
Flame Favourites
£11.50
Chicken Feast Pizza 08" Thin
Grilled chicken & tandoori chicken
Meaty
£6.30
Chicken Feast Pizza 11" Thin
Grilled chicken & tandoori chicken
Meaty
£7.60
Chicken Feast Pizza 11" Deep
Grilled chicken & tandoori chicken
Meaty
£8.60
Chicken Feast Pizza 16" Thin
Grilled chicken & tandoori chicken
Meaty
£12.50
Meat Feast Pizza 08" Thin
Pepperoni, salami, garlic sausage & ham
Meaty
£6.30
Meat Feast Pizza 11" Thin
Pepperoni, salami, garlic sausage & ham
Meaty
£7.60
Meat Feast Pizza 11" Deep
Pepperoni, salami, garlic sausage & ham
Meaty
£8.60
Meat Feast Pizza 16" Thin
Pepperoni, salami, garlic sausage & ham
Meaty
£12.50
Donner Pizza 08" Thin
Donner meat & onions
Meaty
£6.30
Donner Pizza 11" Thin
Donner meat & onions
Meaty
£7.40
Donner Pizza 11" Deep
Donner meat & onions
Meaty
£8.60
Donner Pizza 16" Thin
Donner meat & onions
Meaty
£12.50
Full Monty Pizza 08" Thin
Pepperoni, ham, salami & mince meat
Meaty
£6.30
Full Monty Pizza 11" Thin
Pepperoni, ham, salami & mince meat
Meaty
£7.40
Full Monty Pizza 11" Deep
Pepperoni, ham, salami & mince meat
Meaty
£8.60
Full Monty Pizza 16" Thin
Pepperoni, ham, salami & mince meat
Meaty
£12.50
Mega Meaty Pizza 08" Thin
Donner meat, grilled chicken & ham
Meaty
£6.30
Mega Meaty Pizza 11" Thin
Donner meat, grilled chicken & ham
Meaty
£7.60
Mega Meaty Pizza 11" Deep
Donner meat, grilled chicken & ham
Meaty
£8.60
Mega Meaty Pizza 16" Thin
Donner meat, grilled chicken & ham
Meaty
£12.50
SFC Pizza 08" Thin
Southern fried chicken, peppers & sweetcorn
Meaty
£6.30
SFC Pizza 11" Thin
Southern fried chicken, peppers & sweetcorn
Meaty
£7.60
SFC Pizza 11" Deep
Southern fried chicken, peppers & sweetcorn
Meaty
£8.60
SFC Pizza 16" Thin
Southern fried chicken, peppers & sweetcorn
Meaty
£12.50
Flames Special Pizza 08" Thin
Mushrooms, peppers, onions, sweetcorn, salami, pepperoni & garlic sausage
Flames Specials
£6.50
Flames Special Pizza 11" Thin
Mushrooms, peppers, onions, sweetcorn, salami, pepperoni & garlic sausage
Flames Specials
£8.00
Flames Special Pizza 11" Deep
Mushrooms, peppers, onions, sweetcorn, salami, pepperoni & garlic sausage
Flames Specials
£9.00
Flames Special Pizza 16" Thin
Mushrooms, peppers, onions, sweetcorn, salami, pepperoni & garlic sausage
Flames Specials
£12.90
Asian Special Pizza 08" Thin
Chicken tikka, mince meat, peppers, red onions, sweetcorn & green chillies
Flames Specials
£6.50
Asian Special Pizza 11" Thin
Chicken tikka, mince meat, peppers, red onions, sweetcorn & green chillies
Flames Specials
£8.00
Asian Special Pizza 11" Deep
Chicken tikka, mince meat, peppers, red onions, sweetcorn & green chillies
Flames Specials
£9.00
Asian Special Pizza 16" Thin
Chicken tikka, mince meat, peppers, red onions, sweetcorn & green chillies
Flames Specials
£12.90
Veg Special Pizza 08" Thin
Black olives, mushrooms, red onions, sweetcorn, peppers & fresh tomatoes
Flames Specials
£6.50
Veg Special Pizza 11" Thin
Black olives, mushrooms, red onions, sweetcorn, peppers & fresh tomatoes
Flames Specials
£8.00
Veg Special Pizza 11" Deep
Black olives, mushrooms, red onions, sweetcorn, peppers & fresh tomatoes
Flames Specials
£9.00
Veg Special Pizza 16" Thin
Black olives, mushrooms, red onions, sweetcorn, peppers & fresh tomatoes
Flames Specials
£12.90
Texas Pizza 08" Thin
Grilled chicken, ham, mince meat, red onions & jalapenos
Flames Specials
£6.50
Texas Pizza 11" Thin
Grilled chicken, ham, mince meat, red onions & jalapenos
Flames Specials
£8.00
Texas Pizza 11" Deep
Grilled chicken, ham, mince meat, red onions & jalapenos
Flames Specials
£9.00
Texas Pizza 16" Thin
Grilled chicken, ham, mince meat, red onions & jalapenos
Flames Specials
£12.90
The Arabian Pizza 08" Thin
Chicken, black olives, red onions, peppers & fresh tomatoes
Flames Specials
£6.50
The Arabian Pizza 11" Thin
Chicken, black olives, red onions, peppers & fresh tomatoes
Flames Specials
£8.00
The Arabian Pizza 11" Deep
Chicken, black olives, red onions, peppers & fresh tomatoes
Flames Specials
£9.00
The Arabian Pizza 16" Thin
Chicken, black olives, red onions, peppers & fresh tomatoes
Flames Specials
£12.90
The Fantastic 4 Cheese Pizza 08" Thin
Mozzarella, feta, baby mozzarella & parmesan
Flames Specials
£6.50
The Fantastic 4 Cheese Pizza 11" Thin
Mozzarella, feta, baby mozzarella & parmesan
Flames Specials
£8.00
The Fantastic 4 Cheese Pizza 11" Deep
Mozzarella, feta, baby mozzarella & parmesan
Flames Specials
£9.00
The Fantastic 4 Cheese Pizza 16" Thin
Mozzarella, feta, baby mozzarella & parmesan
Flames Specials
£12.90
Layer Cake Pizza 08" Thin
Layer of cheese, layer of pepperoni, another layer of cheese & pepperoni & a final layer of cheese
Flames Specials
£6.50
Layer Cake Pizza 11" Thin
Layer of cheese, layer of pepperoni, another layer of cheese & pepperoni & a final layer of cheese
Flames Specials
£8.00
Layer Cake Pizza 11" Deep
Layer of cheese, layer of pepperoni, another layer of cheese & pepperoni & a final layer of cheese
Flames Specials
£9.00
Layer Cake Pizza 16" Thin
Layer of cheese, layer of pepperoni, another layer of cheese & pepperoni & a final layer of cheese
Flames Specials
£12.90
Half & Half Pizza 08" Thin
Choose any two different pizzas in one
Flames Specials
£6.50
Half & Half Pizza 11" Thin
Choose any two different pizzas in one
Flames Specials
£8.00
Half & Half Pizza 11" Deep
Choose any two different pizzas in one
Flames Specials
£9.00
Half & Half Pizza 16" Thin
Choose any two different pizzas in one
Flames Specials
£12.90
Create Your Own 08" Thin
With any four toppings of your choice
Flames Specials
£6.50
Create Your Own 11" Thin
With any four toppings of your choice
Flames Specials
£8.00
Create Your Own 11" Deep
With any four toppings of your choice
Flames Specials
£9.00
Create Your Own 16" Thin
With any four toppings of your choice
Flames Specials
£12.90
Original Calzone
Salami, garlic sausage, peppers & mushrooms
£7.20
Donner Calzone
Donner meat, green peppers & onions
£7.20
Pollo Funghi Calzone
Chicken & mushrooms
£7.20
Veg Calzone
Mushrooms, peppers, onions & fresh tomatoes
£7.20
Special Calzone
Tandoori chicken, donner meat, red onions & peppers
£7.60
Garlic Bread Original
Garlic butter on a pizza base
£4.15
Garlic Bread Special
Combination of garlic butter & Flames special tomato base
£4.35
Garlic Bread Supreme
Garlic butter base topped with 100% mozzarella cheese
£4.75
Mushroom Garlic Bread
Garlic butter bread topped with mushrooms & mozzarella cheese
£5.15
Reggae Reggae Burger
Beef burger topped with cheese, jalapenos, fresh salad & reggae reggae sauce
Go Gourmet: Upgrade to a mighty handmade 6oz £1.30 extra
£5.75
Oringo Burger
The O is Silent
Beef burger topped with cheese, onion rings, fresh salad & BBQ sauce
Go Gourmet: Upgrade to a mighty handmade 6oz £1.30 extra
£5.95
New York Burger
100% Chicken fillet breast, hash brown topped with cheese, iceberg lettuce & Hellmann's mayonnaise
£5.95
The LB Burger
4  4oz beef burgers, 4  cheese slices, salad, burger sauce, stretched stomach
£6.95
Nacho Libra Burger
Chicken fillet burger topped with crispy tortilla chips, drizzled with Mexican salsa, jalapenos & melted cheese
£5.95
Hangover Burger
Beef burger with fried egg, turkey rasher, beans & a slice of cheese MESSY!
Go Gourmet: Upgrade to a mighty handmade 6oz £1.30 extra
£6.45
The Gourmet Burger
6oz Handmade style burger topped with fried onions, cheese slice, fresh salad & burger relish sauce
£6.45
Miami Burger
Chicken fillet, 2 mozzarella sticks, cheese slice, lettuce & Hellmann's mayo
£5.95
Maximus Burger
Chicken fillet, 4oz beef pattie, turkey rasher, cheese slice, lettuce, onions & Flames special burger sauce
Go Gourmet: Upgrade to a mighty handmade 6oz £1.30 extra
£6.95
Mushroom Melt Burger
100% Mozzarella cheese stuffed with sauteed mushrooms, 4oz beef burger, lettuce, onions & Flames special burger sauce
Go Gourmet: Upgrade to a mighty handmade 6oz £1.30 extra
£5.95
American Burger
4oz beef pattie topped with fried onions, cheese slice, fresh salad & burger sauce
Go Gourmet: Upgrade to a mighty handmade 6oz £1.30 extra
£5.45
Very Vegi Burger
Bread pattie stuffed with vegetables served with fresh salad & hallman's mayo
£5.45
The Turk
4oz beef pattie topped with grilled donner, onions & chilli sauce, served with fresh salad & burger sauce
Go Gourmet: Upgrade to a mighty handmade 6oz £1.30 extra
£5.95
Cod Father
Breaded cod pattie, cheese slice served with iceberg lettuce hallman's mayo
£5.45
Regular Burger Quarter Pounder
£4.30
Regular Burger Half Pounder
£4.75
Cheese Burger Quarter Pounder
£4.50
Cheese Burger Half Pounder
£5.00
Garlic Burger Quarter Pounder
Topped with garlic
£4.50
Garlic Burger Half Pounder
Topped with garlic
£5.00
Chilli Burger Quarter Pounder
Topped with jalapenos
£4.50
Chilli Burger Half Pounder
Topped with jalapenos
£5.00
Hawaiian Burger Quarter Pounder
Topped with pineapple
£4.50
Hawaiian Burger Half Pounder
Topped with pineapple
£5.00
American Burger Quarter Pounder
Topped with fried onions
£4.50
American Burger Half Pounder
Topped with fried onions
£5.00
BBQ Burger Quarter Pounder
Topped BBQ sauce
£4.50
BBQ Burger Half Pounder
Topped BBQ sauce
£4.90
Coleslaw Burger Quarter Pounder
Topped with coleslaw
£4.50
Coleslaw Burger Half Pounder
Topped with coleslaw
£4.90
Chicken Breast Burger Quarter Pounder
100% Pure chicken breast fillet with Hellmann's mayo
£5.00
Chicken Breast Burger Half Pounder
100% Pure chicken breast fillet with Hellmann's mayo
£5.90
Vegi Burger - Quarter Pounder
Mc Cain's vegetable pattie
£4.80
Fish Burger - Quarter Pounder
Cod pattie
£4.70
Donner Burger Quarter Pounder
Topped with donner meat
£4.60
Donner Burger Half Pounder
Topped with donner meat
£5.10
Mini Fillet Burger - Quarter Pounder
Chicken breast with Hellmann`s mayo
£3.40
Desi Burger Quarter Pounder
Shami kebab in a bun topped with mint yoghurt sauce, onions & lettuce
£4.50
Desi Burger Half Pounder
Shami kebab in a bun topped with mint yoghurt sauce, onions & lettuce
£5.50
Donner Kebab (Small) - Pitta
£4.60
Donner Kebab (Large) Wrap
£4.80
Donner Kebab (Large) Pitta
£5.30
Chicken Tikka Kebab Pitta
£5.40
Italian Kebab Pitta
Topped with mozzarella cheese & mayo
£5.70
Italian Kebab Wrap
Topped with mozzarella cheese & mayo
£5.70
Italian Kebab Nan
Topped with mozzarella cheese & mayo
£6.70
Special Pitta
Chicken tikka, seekh kebab & donner meat
£6.00
Special Nan
Chicken tikka, seekh kebab & donner meat
£6.85
Mixed Shawarma Box
Shawarma, donner meat, chips & Pepsi can
£6.70
King Kebab
Donner Meat, Chicken Tikka, Chicken Shawarma & Seekh Kebab. With Chips, Fresh Salad, Chilli Sauce & Garlic Mayo on Nan Bread
£9.50
King Feast
1 x Burger (Beef or Chicken). 1 Piece of Chicken, 3  Spicy Wings, Chips, Donner Meat
Served with Chilli Sauce Garlic Mayo & Salad
£9.50
Vegan Cauliflower & Broccoli Pattie (On its Own) Burger
£3.95
Vegan Cauliflower & Broccoli Pattie (On its Own) Pitta
£3.95
Vegan Cauliflower & Broccoli Pattie (On its Own) Wrap
£3.95
Vegan Cauliflower & Broccoli Pattie (On its Own) Nan
£4.95
Vegan Cauliflower & Broccoli Pattie (Meal) Burger
£5.45
Vegan Cauliflower & Broccoli Pattie (Meal) Pitta
£5.45
Vegan Cauliflower & Broccoli Pattie (Meal) Wrap
£5.45
Vegan Cauliflower & Broccoli Pattie (Meal) Nan
£6.45
Vegan Hot & Spicy Pattie (On its Own) Burger
£3.95
Vegan Hot & Spicy Pattie (On its Own) Pitta
£3.95
Vegan Hot & Spicy Pattie (On its Own) Wrap
£3.95
Vegan Hot & Spicy Pattie (On its Own) Nan
£4.95
Vegan Hot & Spicy Pattie Meal) Burger
£5.45
Vegan Hot & Spicy Pattie Meal) Pitta
£5.45
Vegan Hot & Spicy Pattie Meal) Wrap
£5.45
Vegan Hot & Spicy Pattie Meal) Nan
£6.45
1 Piece of Chicken Regular
£2.30
1 Piece of Chicken With Chips
£3.30
2 Pieces of Chicken Regular
£3.70
2 Pieces of Chicken With Chips
£4.50
3 Pieces of Chicken Regular
£4.80
3 Pieces of Chicken With Chips
£5.30
Chicken Tikka (4) Regular
Served with salad & mint yoghurt sauce
£4.30
Chicken Tikka (4) With Chips
Served with salad & mint yoghurt sauce
£5.20
Vegetable Samosa (2) Regular
Served with salad & mint yoghurt sauce
£3.70
Vegetable Samosa (2) With Chips
Served with salad & mint yoghurt sauce
£4.60
Seekh Kebab (2) Regular
Served with salad & mint yoghurt sauce
£3.70
Seekh Kebab (2) With Chips
Served with salad & mint yoghurt sauce
£4.60
Shami Kebab (2) Regular
Served with salad & mint yoghurt sauce
£3.70
Shami Kebab (2) With Chips
Served with salad & mint yoghurt sauce
£4.60
Popcorn Chicken With Chips
£4.10
Chicken Strips (4) Regular
£3.80
Chicken Strips (4) With Chips
£4.80
Chicken Nuggets (8) Regular
£3.60
Chicken Nuggets (8) With Chips
£4.50
Onion Rings (8) With Chips
£4.30
Cheesy Onion Rings (8) Regular
£4.00
Cheesy Onion Rings (8) With Chips
£4.90
Mozzarella Cheese Dippers (4)
£3.10
Ferrero Rocher Cheesecake
£3.60
Premium Shake Double Chocolate Muffin
£4.10
Premium Shake Ferrero Rocher
£4.10
Contact Us
Find Us
162a Woodhouse Lane, Leeds, LS29HB
We deliver to
LS1, LS10, LS11, LS12, LS13, LS16, LS17, LS2, LS3, LS4, LS5, LS6, LS7, LS8, LS9